Activity Report
2018.09.25
About the Participation in the Symposium at Krasnoyarsk State Medical University
Yu Oshima
Division of Medicine, Kanazawa University
Preventive Medicine Program
Krasnoyarsk State Medical University
I joined the symposium at Krasnoyarsk State Medical University as a doctoral student of the first grade belonging to the Department of Biochemistry and Molecular Vascular Biology.
After undergoing 2 years of initial clinical training as a medical doctor, I decided to pursue basic medical research. It was the first time that I participated in such international interacting for research and I had never been to Russia, so I was very anxious at the beginning.
Actually, I felt tired because I was unfamiliar and confused often, but as a whole I felt interested in discussions with the researchers and lecturers, and it was a very valuable experience for me.
First of all, poster presentations by postgraduate students were held, and I also presented. This was my first experience of poster presentation. I explained to the local researchers about the contents of the research and answered the questions from them, but I couldn't explain as I thought in the actual situation and I was aware of my lack of experience in explaining about the contents of the research. I would like to make use of this reflection on myself.
Also, at Krasnoyarsk State Medical University, there were more female researchers than I imagined and I felt that everyone was dignified. I also interacted with the local postgraduate students and I felt their enthusiasm for their research.
I felt and learned various things from this opportunity of interacting. I hope that cooperative relationship for medical research between Russia and Japan will continue to expand in the future.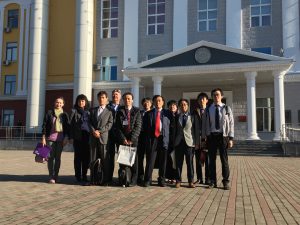 At the Front of Krasnoyarsk State Medical University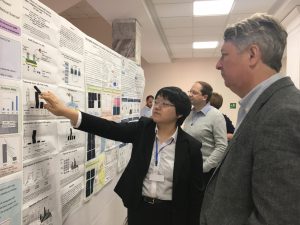 At the Poster Presentation