Activity Report
2018.09.14
Cultural Exchange Program
Yuta Isogai
School of Environmental Design, Kanazawa University
Cultural Exchange Program
Kazan Federal University, Altai State University
This is my first trip to Russia. I had wanted to go to Russia from long ago, so I am pleased to go to Russia and experience Russian culture. For two weeks, I visited the Republic of Tatarstan, and Altai Krai. It was very interesting everyday, and I want to introduce what I experienced and felt in Belokurikha. Belokurikha is a resort city in Altai Krai, and I visited a museum of deer, climbed a mountain, and riding a horse.
First, I visited a museum of deer. I had never seen deer in Japan, so this was precious experiences to see a deer horn, learn how to hunting deer, and drink deer blood. Drinking deer blood was resistant at first, but it tasted good, and I felt I was doing a healthy thing.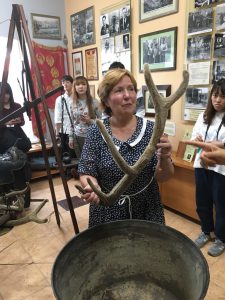 A deer born
Second, I climbed a mountain in Belokurikha. Unfortunately, the weather on that day was bad, but I could overlook the town of Belokurikha, and see the wild animals, like squirrels. I was able to enjoy Russian wildness, and felt the richness of nature.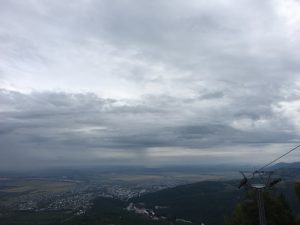 View of Belokurikha
Finally, I got on a horse. It was my first time to ride a horse, so I was nervous. However, the horse didn't act violently and go straight obediently, so I was relaxed and enjoyed nature. I felt wind comfort, and air clearness at the time.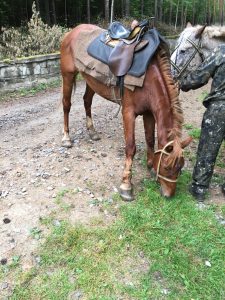 The horse I rode
I felt Russia has very beautiful nature, and Russian people value and protect it. I would like to visit Russia again, and see more places.