Activity Report
2018.09.18
Learning in Russia
Hikaru Naito
School of General Education, Kanazawa University
Cultural Exchange Program
Kazan Federal University, Altai State University
I joined the Culture Exchange Program in Russia. It was my first trip to Russia. I enjoyed a lot, and also learned many thing by visiting many place, and meeting a lot of Russians.
In Belokurikha, I climed the Mount of Tserkovka by getting on a ski lift, and I rode a horse. Belokrikha is famous for a place that utilizes nature. You can find cute squirre when you go to mountain near the hotel, and in winter, many people visit there to ski.
To go to Belokurihka from Barnaul Airport by bus, it takes a lot of time ; more than 4 hours. It seems a little inconvenience, but if you  go to the top of mountain, the idea woud change. The scenery from the top was very beautiful. I think we cannot find the scenery like that in Japan.
And, local residents are interesting for me. They sell crafts, venison jarky, and fresh fruits as souvenirs. I found so many stores  like that. Every stores are opening in the daytime, and people are so cheerful. I have learned Russian language, so I could enjoy talking with them in Russian.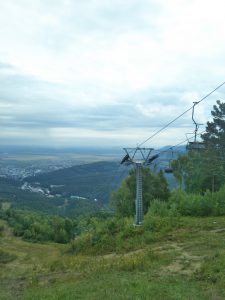 : from the top of the mountain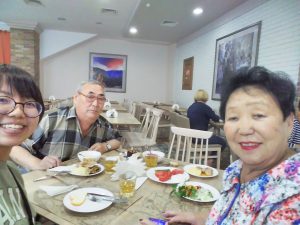 This Russian old couple tallked to me. They cannot speak English, but they tried to talk to me. I was impressed by their kindness.