Activity Report
2018.09.18
My first visit in Russia
Sota Okumura
School of Environmental Design, Kanazawa University
Cultural Exchange Program
Kazan Federal University, Altai State University
My first place to study abroad was Russia. The purpose of this trip was studying the culture and the nature of Russia. I'll show you two points I felt in Russia.
First, I was surprised that the culture of Islam and Christianity coexisted in Kazan. Kazan is the capital city of Tatarstan republic. In Tatarstan, 53% of the total population is Tatars and 40% is Russian. I thought that fights may happen because of the difference of regions. But actually, two regions respect each other. For example, when the holiday of Islam come, Christian celebrate their holiday. And the reverse is also true. I was moved by the thought. So, many mosques and churches stand in Kazan.
Second, I was impressed by the nature of Russia. Russia has many places designated as "Biosphere Reserve". It means the place where we should preserve and we live together with nature in this place. We visited Belokurikha at the second half of the trip. There are beautiful river and eco trail. We walked eco trail and enjoyed beautiful nature. Nowadays, eco tourism attracts public attention. Eco tourism is concerned not only with sightseeing, but also with preserving the environment. I think the improvement of eco trail has a good influence on eco tourism. I think this is a good tendency.
In conclusion, I learned various culture and great nature in Russia. I also learned a little Russian in this trip. My favorite Russian is "Xорошо!". It means great or wonderful. I want to tell "Xорошо!" to Russia! Thank you for all friends and all teachers I met in Russia. I want to make full use of my experience in this trip.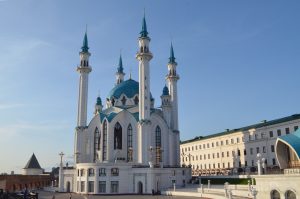 Kazan Kremlin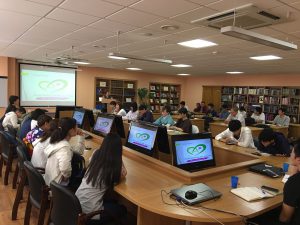 Lecture on "Biosphere Reserve"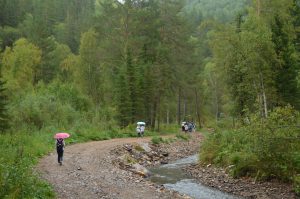 Eco trail at Belokurikha