Activity Report
2018.10.12
Training Program for Russia-Japan Leaders of the Future
Tomoya Tamadate
Kanazawa University
Others
Division of Natural System, Kazan Federal University
I joined the program named "Training Program for Russia-Japan Leaders of the Future" in Kazan for 4 days. This training program re-recognized me the importance of studying a wide range of science.
We visited the world heritage on our first day in Kazan. At that place, I enjoyed seeing the beautiful view, walking around, looking extremely interesting buildings and eating chips. I could really understood why that place was chosen as world heritage because two guides explained historical background of it. I am grateful for them. 
Main symposium, "Fundamental Science and Emergent Technologies for the Sustainable Development in XXI Century", was held on 2nd and 3rd day at Kazan Federal University. About 20 oral presentations and more than 30 poster presentations were carried out by the professors and students, respectively. Unlike normal conference, research field in this symposium were so wide, e. g., mechanical engineering, chemical engineering, mathematics, chemical, etc... Although I thought that I studied wide field research when I stay in Japan, I could not understand some presentations by other professors. I deeply felt my poor acknowledge and my shallow thinking.
I had the whole day for free time on final day. I went to some famous place near the hotel, but unfortunately I forgot that name. I remembered that final day was too cold to stay outside.
Sorry for just writing "a description of my impressions" rather than a "well written report". And thank you for reading until the end.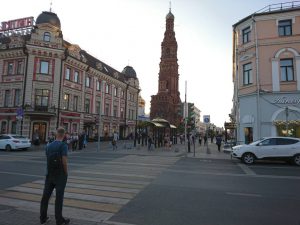 The beautiful street of Kazan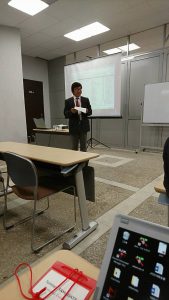 Opening ceremony (speaker is vice president of our university)