Topics
2019.07.16
CONSORTIUM
石川~ロシア大学交流コンソーシアム設立調印式及び記念シンポジウムを開催
The Signing Ceremony for MoU on the Establishment of the Consortium for Academic Exchange between Russia and Ishikawa and the Commemorative Symposium Takes Place
 7月16日,金沢市宝円寺において,石川~ロシア大学交流コンソーシアム設立に関する覚書調印式及び記念シンポジウムが行われ,国内外から約100名が参加しました。本コンソーシアムの設立は,金沢大学が2017年8月に採択された大学の世界展開力強化事業「日露をつなぐ未来共創リーダー育成プログラム」にて掲げた重要施策の一つで,本覚書締結を機に,大学コンソーシアム石川構成大学とロシア8大学コンソーシアムが一丸となり,コンソーシアム間の学生交流が拡充されることが期待されています。
 調印式は,在新潟ロシア連邦領事館ミハイル・セルゲーエフ総領事,石川県加藤隆佳企画振興部長,金沢市松田滋人都市政策局長に見守られるなか執り行われ,山崎光悦学長及びカザン連邦大学ドミトリー・タユルスキー副学長からの主催者あいさつの後,来賓を代表して在新潟ロシア連邦領事館ミハイル・セルゲーエフ総領事から祝辞を頂戴しました。
 引き続き,記念シンポジウム「SDGs達成に向けた日露大学の協力」も行われ,持続可能な開発目標(SDGs)をテーマに日露大学の教員12名による研究発表及び文化交流プログラムに参加したロシア学生によるグループ発表が行われました。各研究発表の分野は非常に多岐にわたり,日露教員から質問が飛び交う等,盛会のうちに終了し,今後の日露の研究交流の拡充に弾みをつけるものとなりました。
 On July 16, 2019, the signing ceremony for MoU on the establishment of the consortium for academic exchange between Russia and Ishikawa and its commemorative symposium took place at Hoenji Temple in Kanazawa, and approximately 100 people participated. The establishment of this consortium is one of the important policies in the "Inter-University Exchange Project -Training Program for Russia-Japan Innovative Leaders of Tomorrow-" adopted by MEXT in August 2017. On the occasion of the conclusion of the MoU, it is expected that the constituent universities of Ishikawa University Consortium and 8 universities of Russian University Consortium work together to expand the student interaction between them.
 The signing ceremony was witnessed by Mr. Mikhail A. Sergeev, consul-general from the Consulate-General of Russia in Niigata, Mr. Takayoshi Kato from Ishikawa prefectural government, and Mr. Shigeto Matsuda from Kanazawa City Hall. After the speeches from Dr. Koetsu Yamazaki, President of Kanazawa University, and Prof. Dmitrii Tayurskii, Vice-Rector of Kazan Federal University, Mr. Sergeev offered a congratulatory speech on behalf of the guests.
 The commemorative symposium "Japanese-Russian University Cooperation to achieve Sustainable Development Goals (SDGs)"took place after the signing ceremony. Twelve faculty members from Russian and Japanese universities gave presentations on their research on the theme of SDGs. Russian students who participated in the cultural exchange program also gave a group presentation. The presentations covered a wide variety of topics. The symposium closed in success and it stimulated the future expansion of academic exchange between Japan and Russia.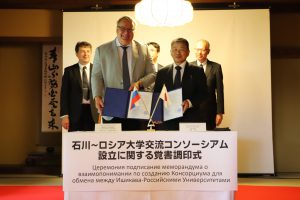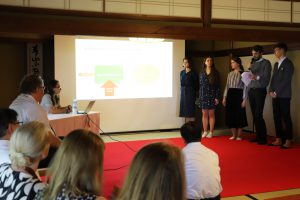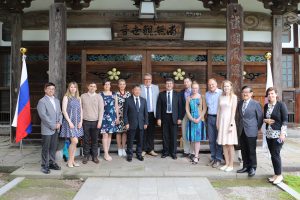 Signing ceremony for MoU                        Student presentation                Delegates from Russian universities